Calvert "Lowell" Williams, 1922-2006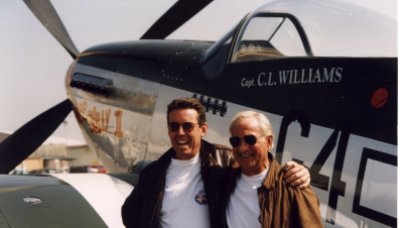 Sad news.
The man who taught me to fly has passed into the next life.

Lowell Williams (he's on the right, that's me on the left) is pictured here on his birthday in 1994, with a P-51 Mustang, all painted up with his name and squadron numbers to match the Mustang he flew in WWII. A bunch of his friends chipped in and bought him his first ride in this great aircraft in almost 50 years. Boy was he surprised!

Lowell Williams saved my life countless times, and he also saved me from wrecking my biplane (which he truly loved) even more times, all during the time he was trying, patiently, to teach me how to fly, safely, professionally.

Lowell accompanied me as safety pilot on my trip with N250YM (the second Waco) from the factory in Michigan, in the summer of '94, the long way (6 weeks!) back to California via Philadelphia, my college reunion in Maryland and a fly-in gathering of Wacos in Creve Couer outside of St. Louis MO. We eventually got back and I learned a ton about flying from Lowell on that trip. And I gained a lot of confidence.

Lowell and I went on other long distance flying tours when I was still learning to fly. During these trips, Lowell would never touch the controls, except in the rare case where damage would have occurred within seconds if he did not touch the controls. This happened almost every flight at first, and then every other flight, and then one in ten, and by the end of the summer it was none at all. I felt "graduated".

Next he taught me aerobatics! That was Lowell's specialty.

I couldn't have had a better flight instructor.

We became good friends.

He was a great, yet humble and quiet man.
He let his actions speak for him.
I never met a single human being who didn't like Lowell.

Aye, Lowell, we're going to miss you...

For more photos of Lowell and his friends,
click here.