Chess, Billiards, and a Place to sit and eat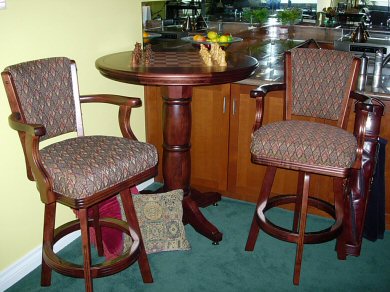 (click to BIGGIFY)



Chess and billiards are two of my favorite games.

New furniture delivered to the Fun House this week
significantly upgrades these facilities.
The table is the "Del Mar" model by Darafeev,
and has an inlaid chess board in the surface.
The chairs swivel, of course, and are ideal for
my opponents in billiards, who must endure long
periods of waiting for their turn, while
I run rack after rack after rack...
(it's a fantasy I have).

The new chairs, with arms and backs,
replace the armless, backless stools which
were quite uncomfortable for the spectators.

Strange as it may seem, until now there has been
no place to sit and share a meal with a friend.
There was no kitchen or dining table and chairs.
Most of the room for that sort of trivial stuff
was taken up by the pool table.
So now I can stop eating while standing over the sink,
(in the true bachelor fashion)
or while eating from a plate in my lap while doing TV.
I feel so civilized!

Furniture purchased from Billiards and Barstools
in San Marcos, who also supplied the
Brunswick Gold Crown IV pool table
which I had recovered and releveled when they
deliviered the furniture.
They are a first class company to deal with.
Good people.