Waco Model First Flight
Back in November
I wrote about a guy in Slovenia
(still don't know where that is, right?)
who built a model of my Waco biplane,
so detailed and true to the original
that it even has my name
on the side of the cockpit!

To see that post,
and a photo of the model prior to finishing,
click here.

All winter long,
our hero, Marko Klancisar,
a graduate mechanical engineer,
patiently waited out the cold,
and just a few weeks ago took his
fantastic creation for its maiden flight.

Can you imagine working for hundreds of hours
on building a thing of such perfect beauty,
and then actually flying it,
and risking everything in a crash?
Only a very experienced builder/pilot
would do such a thing!

Feast your eyes on this beauty:



(click photo to BIGGIFY it)

And, not for the moment you have
been waiting for:

Click here for video of that First Flight.
(11 MB .mov format)
Notice the perfect aileron roll.
Sweet!

Here's a closeup of the model:


(click photo to BIGGIFY it)

And, for comparison, the original, my biplane: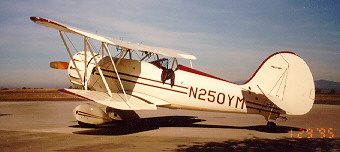 Congratulations, Marko!
You are a true artist.
And, thank you for bringing back such fond memories!