Remembering Sam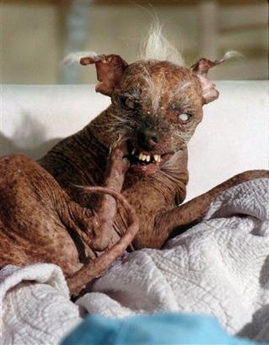 Sam, crowned the 'World's Ugliest Dog'
for three years in a row at the Sonoma-Marin Fair,
is shown in Santa Barbara, Calif., on June 28, 2005.
The pooch with the hairless body,
crooked teeth and sparse tuft of hair atop his knobby head
died Friday, Nov. 18, 2005, just short of his 15th birthday,
according to his owner, Susie Lockheed.
(AP Photo/Santa Barbara News-Press)

I used to have a dog named Sam.
He was only slightly better looking...