Yeah, but you should see what the OTHER kids look like!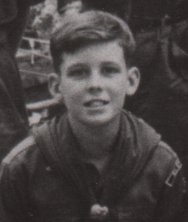 (click to see BIG photos of the other kids)
Yup, that's me as a scout,
about 50 years ago.
Why am I treating you to this rare photo?
Long story.
My scanner has been FUBAR for a couple of months,
and I just installed a replacement today.
One of the oldest jobs waiting to be scanned
was a couple of very old photos
that I wanted to send to the
50th reunion
of my elementary school.
So, if you want to see what
all the other kids looked like
just click on my photo.
I remember some of the faces
like it was yesterday,
but many of the names are lost to me.
But I bet I'd remember them if I heard them again.