Ocean Front Masterpiece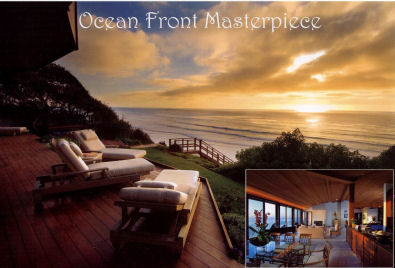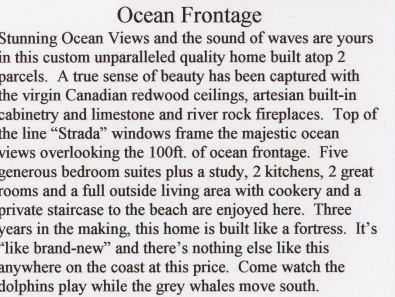 I received this bit of randomness in the mail,
a postcard advert for a home for sale, not so far away.
It has been accumulating lust in my heart
for several weeks,
so I scanned it
and now my lust can go online
and I can share it with the world.

When I look at such a place,
I breathe more deeply,
my feeling for life is greatly enhanced.
I want to live in such a place.
And never move away.

Not that where I live is substandard.
But I would love to see
the dolphins play in the surf each day,
and have private steps to a frisbee beach below,
to let my toes play in the sand.

I can see myself in such a place.
But it's way more costly than I can pay right now.
It would need to be paid for fully,
and the taxes each year as well.
And I'm sure I'd want a toy or two
to fill the extra garage space...

How could I create such a thing to be real in my life?
Maybe it's time I go back to work,
do something productive with my life,
something worthwhile for the world in general.
Maybe Think - Plan - Do - Repeat will help.